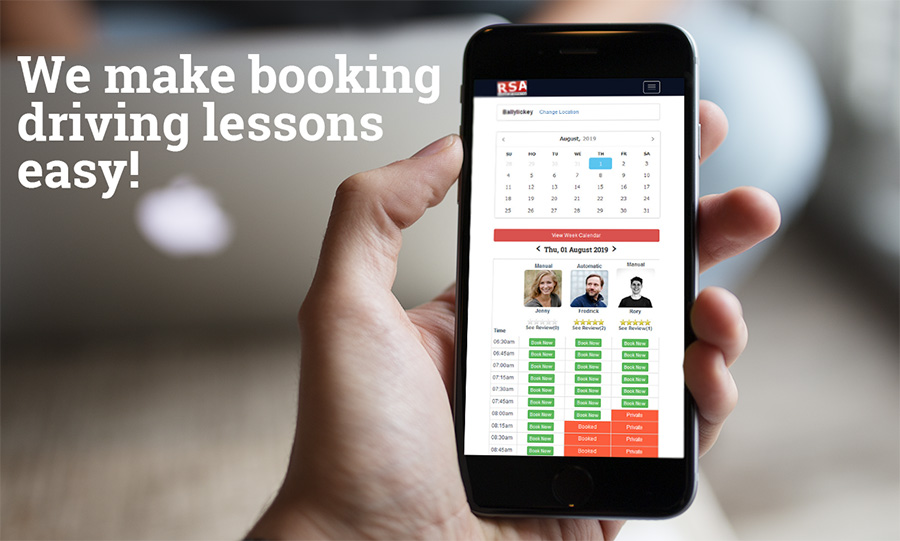 At RSA School of Motoring we believe you should be in control of your lessons. We think that means being able to choose your instructor and having the ability to book your own lessons online. We think that is far more convenient for you and your instructor.
It's our job to connect you with the right instructor. Using our custom booking platform you can choose your instructor and you will work with them directly. Once you have set up your account you can login in anywhere, anytime and pay for lessons, manage your own bookings, work through our EDT training course and more...
Here's how it works...
Go to our booking page
Pick your county and nearest town to find which instructors operate close to you.
Review each instructor, their schedules and pick one you like.
Click on the next available time slot you would like for your first lesson.
You'll be taken to a registration page where you need to select a package, enter the students name and contact details and enter your payment details.
Once you have paid your account is created and you are redirected into your dashboard to confirm your first lesson.
Enter your exact pick up address and click confirm and you're all done. You'll be emailed confirmation of your package purchase and first lesson moments later.
After this just log in anytime to book more lessons.

Do you need manual or automatic lessons?
When you have told us your location and see the instructors we have available you'll see the transmission they provide lessons in above their profile picture. Be sure to select an instructor that offers lessons in the type of transmission vehicle you want to learn in.
What if I want to change instructors?
Because we connect you directly to your instructor if you have any issues or need a refund you must apply for these directly with your instructor. In the meantime we can help you connect with another instructor if you don't feel like you're working well together.
Our cancellation policies
Last minute cancellations as a rule do incur penalties. Our booking platform will send you lesson reminders via email 48 and 24 hours before each lesson. If you can't make a lesson and you don't give your instructor sufficient time to book someone else into that available time slot then it is only fair your instructor is compensated. Our policy requires that you give your instructor at least 24 hours notice or you will lose the lesson credit. This is discretionary to each instructor and if your instructor decides it prudent they may reimburse any credits that the system charges you.